What's the best part of Nickelodeon's "The After Party?" Now, that's a loaded question. Could it be getting the inside scoop from our favorite actors on "Game Shakers" and "Henry Danger"? Or the fact that the segment recently aired on TV? Or maybe it's the amazing games that the show's host Karen (AKA Karen… just Karen) plays with the actors?
Maybe, just maybe, it's all of this and more. Still, we have to admit that games are pretty high on the list! It's so much fun to watch Nickelodeon actors get pelted with dodgeballs, answering fan questions, desperately trying to pop balloons, eating corn with their hands tied behind their backs, and generally acting like lunatics behind the scenes. Even better, these games are easily replicable so you can play them at home — all it takes is a little imagination and equipment of your own.
Here are 6 super-cool "After Party" games you don't want to miss!
1. The Anti-Gravity Contest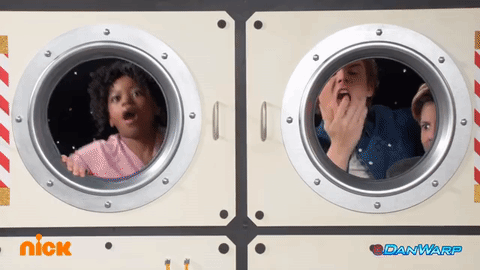 Who is the most convincing anti-gravity floater? The cast of "Henry Danger" competes for a healthy portion of "astronaut meat." The contest's judge, Cooper Barnes ("Henry Danger"'s Ray/Captain Man), wastes no time picking himself and Ella Anderson as the winners. Impressive since Cooper didn't actually compete in the competition!
2. Draw Your Castmates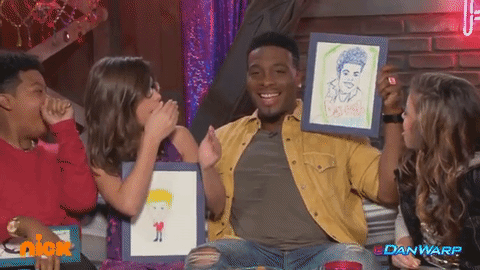 The cast of "Game Shakers" put their drawing skills to the test in this SUPER fun challenge! Ummm, can we get Kel's "Lil P-Nut" masterpiece printed and framed, please? Bravo!
3. Paparazzi Playtime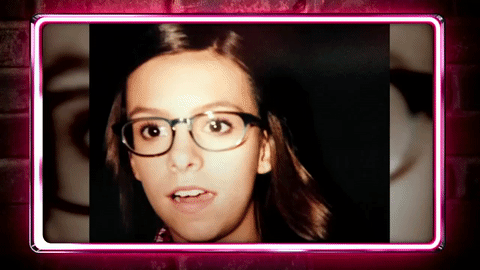 For this game, Karen gave the "Game Shakers" cast members disposable cameras a few days in advance and instructed them to sneak up on one another to capture unexpected moments on set. The results, let's just say, range from flabbergasting to fabulous!
4. Tooth or Dare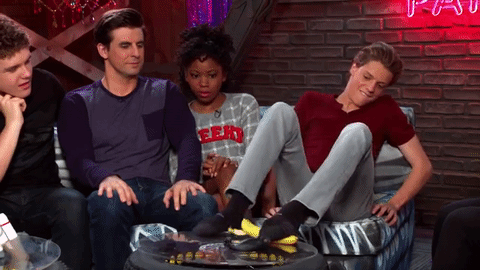 Karen invites her dentist on the show to play "Tooth or Dare" with the "Henry Danger" cast. After flipping a coin, those that land on "tooth" get a dental fact, and those who get dare have to, for example, unpeel their least favorite fruit with their feet. We'll never look at a banana the same way.
5. The No-Handed Balloon Pop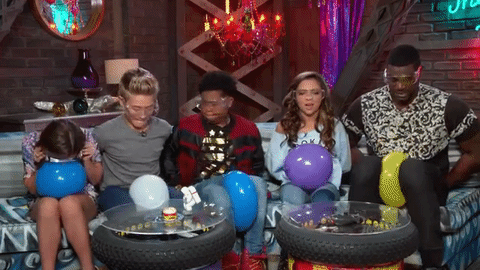 Ever tried to pop a balloon without your hands or feet? The "Game Shakers" cast was given a reason to (*cough* PRIZES) during this zany "After Party" segment. Maddie Shipman wins, while Shel Bailey (who plays Ruthless) clearly skipped leg day.
6. Dodging Questions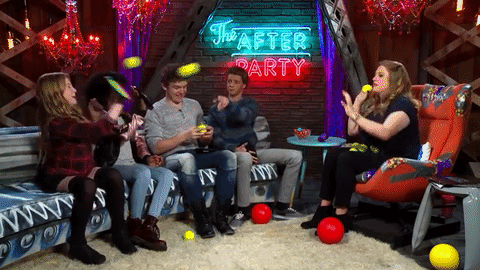 In this game, the cast of "Henry Danger" gets to answers fan questions once they catch styrofoam balls zooming their way. Watch the video to find out if Henry will get a girlfriend this season, and whether or not Ella will be taking a trip to Kazakhstan this summer!
Don't forget to watch more "After Party" segments on DanWarp's Youtube Channel!
---
"Game Shakers" is an American live-action sitcom, created by Dan Schneider, currently airing on Nickelodeon. The series stars Cree Cicchino and Madisyn Shipman as pre-teens that start a multimillion dollar gaming company and take on a rap superstar, played by Kel Mitchell, as their business partner. The series is produced by Dan Schneider, an American actor, TV and film actor, and producer.
"Henry Danger" is an American superhero TV comedy, created by Dan Schneider and Dana Olsen, currently airing on Nickelodeon. The series follows a 13-year-old boy, played by Jace Norman, who lands a job as the sidekick of a local superhero. "Henry Danger" is produced by Dan Schneider, an American actor, TV and film actor, and producer.
Follow Dan Schneider on Instagram!